Reolink cameras/NVRs can be accessed locally or remotely via the Reolink App, Client, or web browsers. Here we'll guide you on how to remotely access your cameras via a web browser. 
Applies to: Reolink cameras (except for Reolink battery-powered cameras, Reolink E1, E1 pro, Reolink Lumus, and add-on cameras) and PoE NVRs.
Here is the video for your reference: 
Step 1. Find the IP address of your cameras.
If you don't know the IP address, you may check the IP address of your device via Reolink Client or on Reolink App, or on the NVR monitor
Note: If you reboot your router or your device has been offline for too long, the IP address of your device may change and the port that you forward may become invalid. To avoid the problem, you may assign a static IP address for your device or use Dynamic DNS to access your device.
Step 2. Log in to your router and forward ports for your cameras.
Note:
For IP cameras, forward the HTTP/HTTPS Port and the RTMP Port on your router.

If you want to access more than one camera via the web browser, make sure the ports you set for the cameras are different. Or there is a port conflict and it won't work properly after the port forwarding. So please make sure the HTTP port and RTMP port you set for all your cameras are different.
Step 3. Input the URL into the web browser and log in to view the security camera live.
The URL should be IPv4 Address: HTTP Port
For example, if your IPv4 Address is 183.37.194.135, and the HTTP Port is 805, then the URL should be http://183.37.194.134:805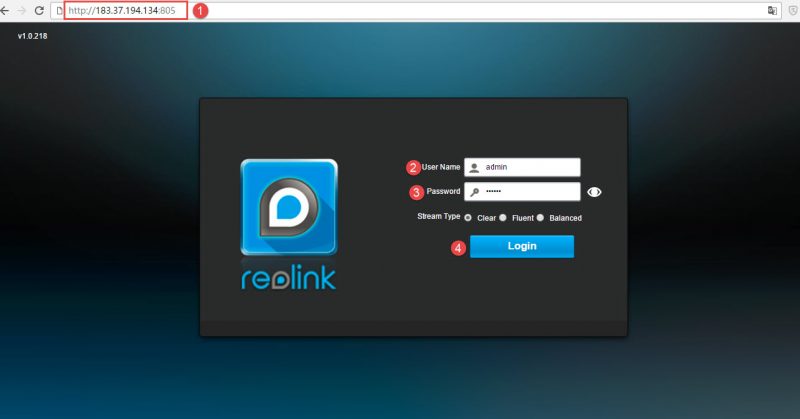 Notes:
1. If you don't know your IPv4 Address, check it by connecting your computer to the same router your camera is on, and visiting www.whatismyipaddress.com.