Applies to: All Reolink IP cameras
There are several possible causes for Send Email fail or E-mail test failed when configuring email settings via Reolink Client or on Reolink App. You may follow the the steps below to troubleshoot the problem.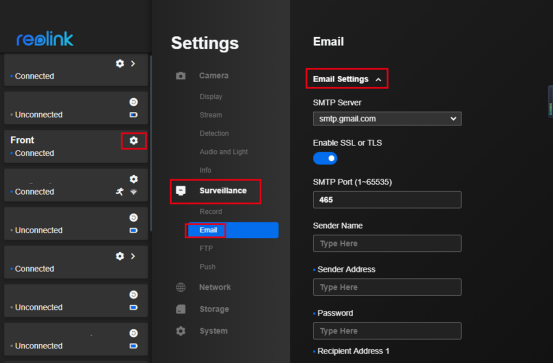 Note: On Reolink App, you will receive a reminder email if you fill in the correct information and set the email successfully. If you didn't receive the email, please refer to the following steps to troubleshoot the problem.
Cause 1. Incorrect email address or password.
Solution: Double-check your address and password to make sure that they are correct. If the recipient address is wrong, it will cause the "invalid receiver" error.
For some email accounts, it will require the authorization code for login rather than email password.
Cause 2. Incorrect SMTP Server & Port.
Solution: Google the SMTP Server & SMTP port of your email service and input the correct info. Then you may click on E-mail Test to see if it works.
Note: Please make sure that the SMTP server has been enabled for your email account. The SMTP Server and Port may vary depending on the mailbox that you are using. If you set Gmail as the Sender Address, you may leave the default SMTP Server (smtp.gmail.com) and default Port (465 when SSL or TLS is enabled and 25 when SSL or TLS is disabled) unchanged. However, if you set other mailbox, such as Hotmail, Yahoo mail, as Sender Address, you will need to input the corresponding SMTP server & SMTP port for the e-mail test.
For your reference:
| | | | |
| --- | --- | --- | --- |
| Email Service Provider | SMTP Server | SMTP Port (SSL or TLS Enabled) | SMTP Port (SSL and TLS Disabled) |
| Yahoo Email | smtp.mail.yahoo.com | 465 or 587 | 25 |
| Hotmail | smtp.live.com | 587 | 25 |
| MSN Email | smtp-mail.outlook.com | 587 | 25 |
Cause 3. Your email service has disabled access to third-party software.
Solution: Go to your email account settings to enable less secure apps to access the account. See example of how to configuring gmail security settings.
Cause 4. Poor network connection.
Solution: Check your network connection. Follow the steps below to check whether your Reolink device is properly connected to the Internet.
Go to Reolink Client -> Device Settings -> Network Advance -> NTP and click Synchronize. If it displays NTP setting succeed, then your device is successfully connected to the Internet. Otherwise, you need to check your network connection.
Cause 5. Receiving email amount limitation
Solution: Please check if there is the maximum amount email settings in your email account. If yes, please check whether the amount of the email you received reaches the limitation.
If the problem persists after going through the steps above, you may set other mailbox as Sender Address and see whether you can pass the e-mail test or contact our support team for additional help. Feel free to set any mailbox as the Sender Address as it is the Recipient Address that the emails are actually sent to.