Applies to:
All Reolink IP cameras
This guide helps you troubleshoot when you meet the issue of "Send Email fail" on Reolink Client software like this: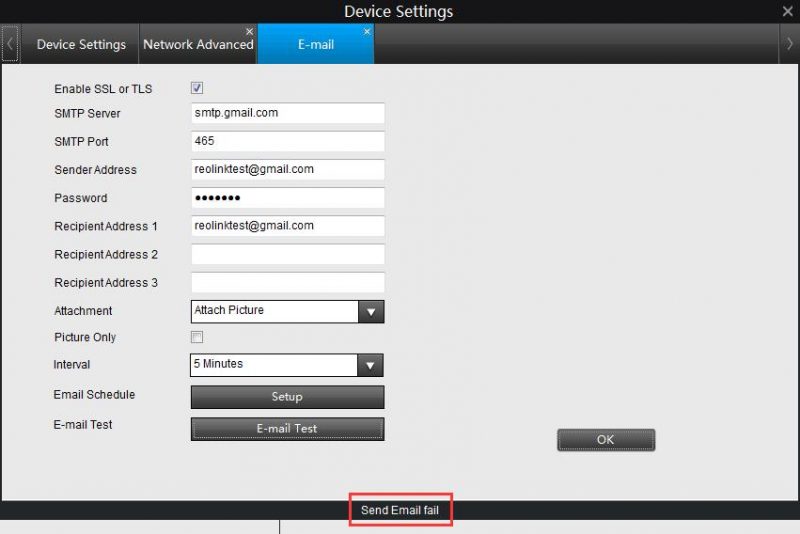 (Reolink Client for Windows)
Or "Email test failed" on Reolink App like this:
(Reolink App)
Cause 1. Input email address and mailbox password incorrectly.
Solution: Double-check your address and password and make sure they are correct.
Cause 2. The SMTP Server & port is incorrect.
Note: The default "SMTP Server" of "smtp.gmail.com" and default "SMTP port" of "465" is for the situation when you use Gmail as the "Sender Email". However, if you are using Hotmail, Yahoo mail, etc., as "Sender Email" then you need to input the corresponding "SMTP Server" & "SMTP port" in order to pass Email test.
Solution: Google the "SMTP Server" & "SMTP port" of your email service and then input the correct info. After that, you can do "E-mail Test" again.
Here are some References:
Yahoo Email
SMTP Server : smtp.mail.yahoo.com
SMTP Port : 465 or 587
Hotmail/MSN Email
SMTP Server : smtp.live.com      or         SMTP Server : smtp-mail.outlook.com
SMTP Port : 25                                          SMTP Port : 587
Cause 3. Your email service wouldn't allow third-party App to use its authority.
Solution: For example, if you are using Gmail, you need to go to Google account settings to enable less secure App as per Gmail.
Cause 4. Network problem- Your Reolink device isn't connected to the Internet, thus not able to send an email out.
Solution: Check your network connection. If you are unsure about whether your Reolink device is connected to the Internet or not, you can follow this step to verify:
Go to Reolink Client >> "Device Settings" >> "Network Advanced" >> "NTP" and click "Synchronize", if it displays "NTP setting succeed" then your device is well connected to the Internet. Otherwise, it's not and you need to recheck your network connection.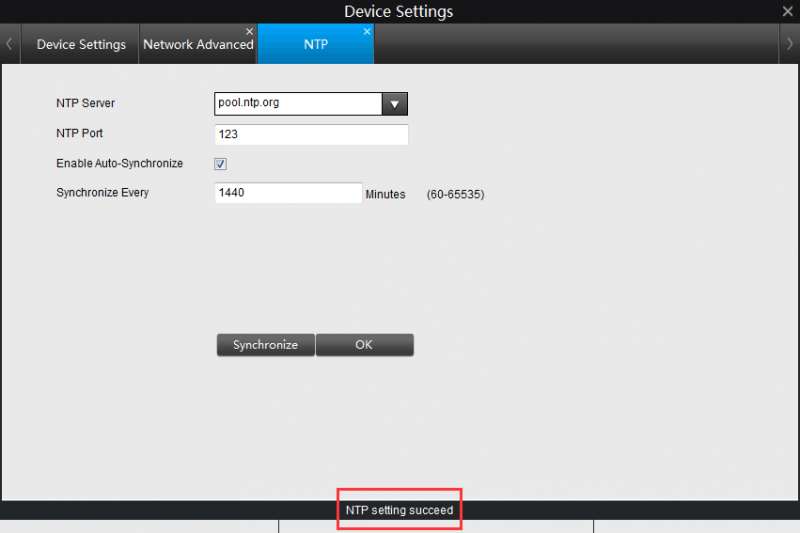 If you have gone through the steps above yet you still can't pass Email test, you can try another email service (i.e. use Gmail rather than Hotmail, vice versa) and see whether you can pass Email test with another email service. Anyway, it doesn't matter which email service is the sender as it is the receiver address that the emails are sent to.