Applies to: Reolink NVRs
If you fail to remotely access Reolink NVR on both Reolink App and Reolink Client, you may follow the troubleshooting tips listed below to solve the problem.
Can you locally access the NVR either with Reolink App or Reolink PC Client?
I can locally access the NVR
Step 1. Please log in to the NVR on Reolink Client on the local network (LAN), go to Device Settings -> Network Advanced, and make sure UID Enable is selected.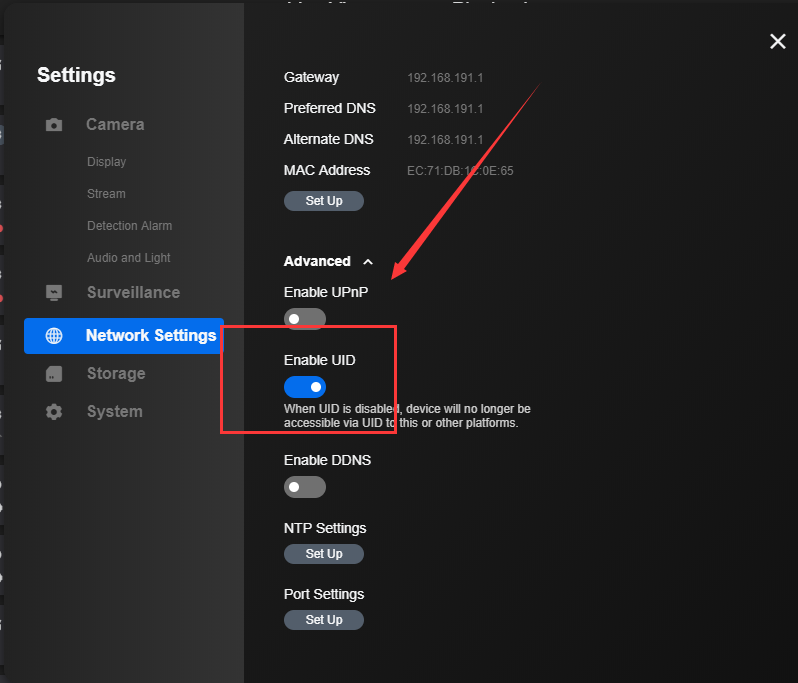 Step 2. Please check whether your router has access to the Internet.
Connect your phone or PC to the WiFi or LAN port of the same router that the NVR is connected to and see if you can visit any websites, such as google.com.
Step 3. Restart your router and NVR.
Step 4. Enable all the UDP ports from 1 to 65535 on your router for the NVR because the NVR uses the random UDP ports to Reolink P2P server for remote accessing. So the router needs to open all the UDP ports for it.
Step 5. If you still can not access the NVR remotely after referring to the instructions above, please check the firmware version of your NVR and report this situation to Reolink Support and mention what you've tried, what the results are, and what the firmware version is for the NVR.
I can't locally access the NVR
Step 1. Check the connection between the NVR & the router and make sure the Ethernet cable is working properly and plugged in tightly.
Step 2. Check the LAN port indicator (LED) on the router and the NVR, and see whether they are all ON and flickering. If not, try to use another Ethernet cable or plug the cable to other ports of the router and the NVR.
Step 3. If the port indicators are still off, please log in to the NVR with a monitor attached, go to Menu -> Network -> General, take a picture of this interface.
Step 4. Go to Menu -> System -> Maintenance, and restore the NVR settings (all settings).
If the problem persists after the NVR is rebooted, report this situation to our support team, mention what you've tried & what the results are, and attach the picture you've taken in Step 3. 
If you need extra help with any of this, please contact our support team by submitting a request.