Applies to: Reolink battery-powered cameras except Argus, Reolink Keen
To optimize the efficiency of Reolink Solar Panel, there are several notes you need to pay attention to:
#1  When mounting your Reolink Solar panel, please select a position with the most sunlight throughout the year for it to make sure your Solar Panel could get the best efficiency when harvesting energy. The ideal Angle of mounting your Solar Panel equals to the local latitude ± 5°.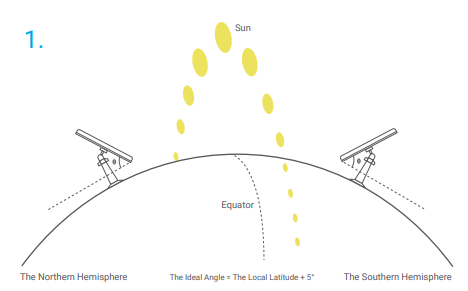 #2  Make sure that there is no blocking on the solar panel. The energy harvesting efficiency drops drastically even when a small portion of the solar panel is blocked. Please avoid mounting locations like the shadow of trees, buildings, or other obstacles to ensure sufficient sunlight.
#3  Please don't install the Solar Panel completely horizontal or your Solar Panel might accumulate dust and other debris easily and will affect the energy harvesting efficiency.
#4  Please wipe the Solar Panel with wet tissue or clothes regularly to remove dust and debris.