Apply to:
All Reolink products except battery-powered models
This guide applies to:
When you try to add a device (Reolink camera or NVR) to Reolink Client in the local network, there is no device scanned and found, as shown below:
Please do all the following until the issue is fixed:
Check your camera and the router-make sure if the camera is powered on*, and plug the camera into the router directly with Ethernet cable**. After a while, scan again on Reolink Client.
Check your PC thoroughly for firewalls & anti-virus software (e.g. Norton Security). If there is any, shut them down, re-launch Reolink Client, and scan again.
Add the camera by UID method- select "Register Mode" as "UID", input the UID, username (admin) and password (no password by default). See if you can log on to the camera.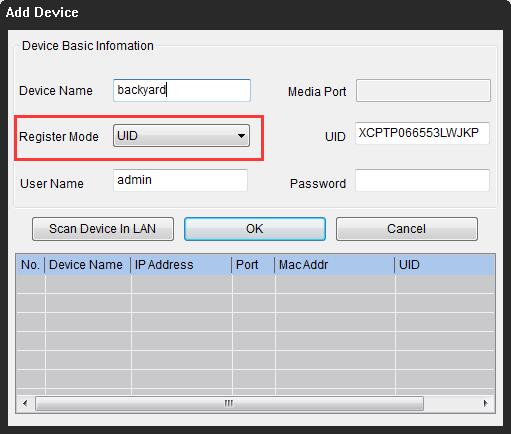 Log on to your router setup page, navigate to the "Connected Devices" interface, and check if there is a camera/NVR on the list?

If it is on the list, copy the IP address and paste it into the browser to open it. If there is no camera/NVR on the list, contact us for help.

Un-install Reolink Client software, and re-install it again to another path. Launch it and scan again.
>>Annotations<<
*How to tell if the camera is powered on? Turn off the lights or bring the camera into the dark, if the infrared lights of the camera turn on, then the camera is powered on properly. If the infrared lights are off, contact us for help.
**Please do so no matter your camera is PoE or WiFi camera. And make sure the LAN port on the router has its indicators ON. If the indicator is off, contact us for help.