A Preset is a user-defined position of the camera's pan tilt and zoom settings. Creating camera presets in advance allows the camera to turn to the wanted monitoring positions quickly.
Applies to: E1 series, RLC-423 series, RLC-523WA, RLC-823A, RLC-823A 16X, RLC-830A, E1 Outdoor, E1 Outdoor PoE, E1 Outdoor Pro, Reolink TrackMix series, Argus PT Ultra, Go PT Ultra, RLC-81PA.
Step 1. Choose the PTZ menu on the live-view page, and use the arrows and the zoom buttons to aim your camera's view at a specific area that you want to set as a preset.
Step 2. Click the Preset button and then click the Add button to set the current camera viewpoint as a preset. Then you name the preset.



Step 3. Aim the camera to other positions where you want to set as presets by repeating Step 1 to Step 2.
Step 4. You can edit the existing preset's name or delete the preset.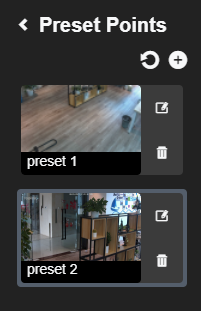 Step 5. Click the preset point to make your camera go to the exact spot you specified quickly.