Upgrading the firmware of your camera or NVR to the latest helps you keep a camera with new functions or solve some hidden problems.
 Applies to: All Reolink NVRs and Cameras except for battery-powered cameras.
Before upgrading, please check the camera model and hardware version in the system information interface. You may refer to the following methods to enter the system information page:
Take the below picture as an example, the camera model is RLC-410-5MP and its hardware version is IPC_51516M5M and its firmware build no. is 20102219 which we can use to determine if it's on the latest version or not.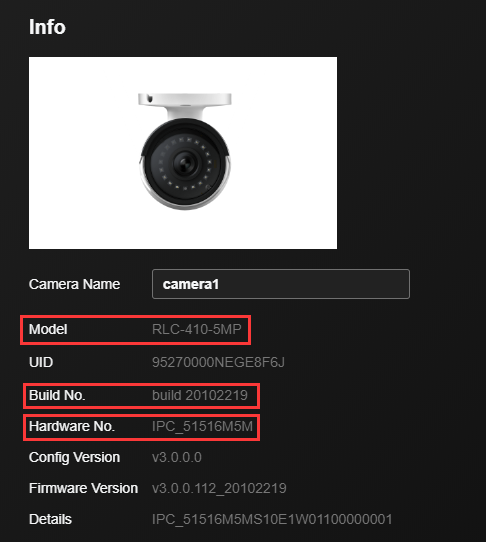 Go to the Download Center to find the firmware for your cameras/NVRs, if your current firmware isn't the latest you'd find a firmware build number larger than your current version available for download. While downloading please check both the camera/NVR model and hardware version to ensure you download the correct firmware for your product.
Download the file and unzip it, using the Reolink Client, NVR monitor, or web browser to access the camera/NVR to upgrade it. Refer to:
Note:
For the cameras connected directly to the NVR, it only supports upgrading via the NVR end (connected to the monitor).

For the battery-powered cameras, we suggest using the auto-upgrade for them, and they don't support upgrading in this way (download the file and upgrade via software).