Here is a detailed introduction to the working modes and the status LED of Reolink 4G cameras.
Applies to: Reolink Go (with a Nano SIM card slot), Go Plus, Go PT, Go PT Plus, Go PT Ultra, Keen Ranger PT, Duo 4G, Duo 2 LTE, TrackMix LTE, TrackMix Wired LTE, TrackMix LTE Plus.
Working Modes
Standby Mode: The camera is in power-saving mode; there is no live view or motions detected.
Working Mode: The camera is running at full capacity. It enters the working status when someone is accessing the camera via Reolink software or the PIR motion sensor detects a movement.
Status LED
There is a LED light in the front of the camera which indicates the camera's different statuses.
Picture: Red LED and Blue LED.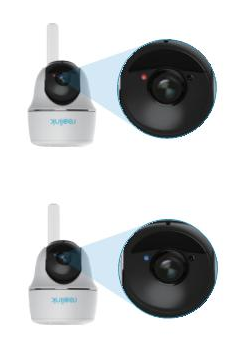 Voice Prompt
LED Status
Camera Status
Network connection succeeded.
Red LED is solid on for some seconds, then blue LED flashes quickly and stays solid on for about 5 seconds and then goes off.
Camera successfully connects to the network.
SIM card cannot be recognized.
Red LED is solid on for some seconds and then starts to flash.
Camera cannot recognize this SIM card.
The SIM card is locked with a PIN. Please disable it.
Your SIM card has a PIN.
Not registered on network. Please activate your SIM card and check the signal strength.
Blue LED flashes slowly, then goes off.
Camera fails to be registered to the operator network.
Network connection failed.
Blue LED is solid on for 2 seconds and then goes off, repeating 5 times.
Camera fails to connect to the Reolink server.
Data call failed. Please confirm your cellular data plan is available or import the APN Settings.
Red LED is solid on, then Blue LED flashes quickly and then goes off.
The SIM card has run out of data or APN Settings are not correct.