This article shows you all the ports of Reolink cameras and NVRs. And it also mentions the information about how to allow your camera to go through the firewall, so you can access it remotely.
Applies to: All Reolink products except battery-powered ones 
Remote access can be divided into UID access and IP access.
When remotely accessing your camera by using UID, there are no designed ports for it, as the camera uses random UDP ports. So you don't need to forward ports on the router, but the router needs to allow connection via any UDP ports.
When remotely accessing your camera by using IP, you need to forward different ports in the router interface for different access forms. Refer to How to Forward Ports in Router Interface for Reolink Products for help.
Specifically, there are the following six types of ports for almost all the Reolink WiFi and PoE cameras. Please note that E1/Lumus does not support HTTP/HTTPS/RMTP/RSTP/ONVIF connection, E1 Pro does not support HTTP/HTTPS/RMTP ports.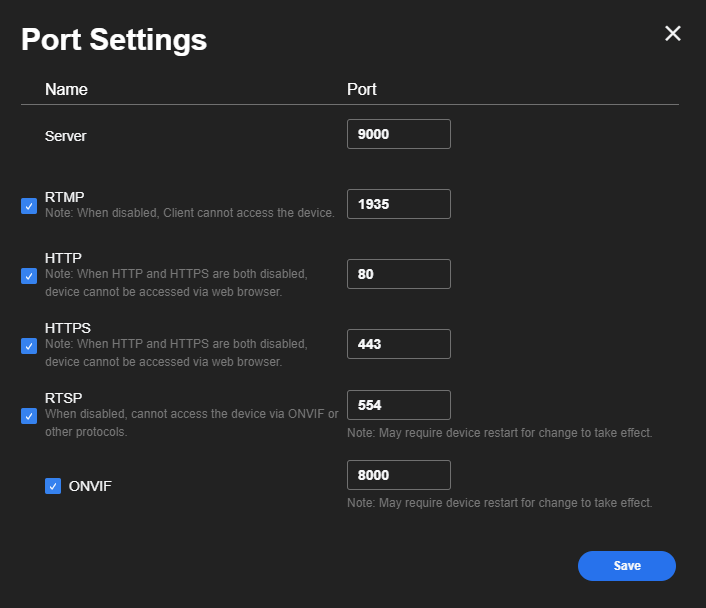 Server port: access via Reolink Client or Reolink App.
HTTP & HTTPS port: access via a web browser (the latter port is more secure than the former one).
RTSP port: watch a live stream on the VLC player.
ONVIF port: access via third-party software.
Note: when loading the live stream on a web browser, the RTMP port needs to be forwarded.