Applies to: All Reolink products
Here are some methods to view your cameras on TV.
Solution 1: NVR
You may refer to this article to see the model of device that can work with NVR: Which Cameras can Work with Reolink NVR
If your camera system involves an NVR, you may hook the NVR to your TV via an HDMI port or VGA port. Please kindly follow the below steps to connect cameras to TV:
Step 1. Connect Reolink cameras to the NVR.
Step 2. Connect the NVR to TV with the HDMI cable.
Step 3. Power the NVR with the power adapter.
Step 4. Turn on the TV, and the live view will be shown on the screen.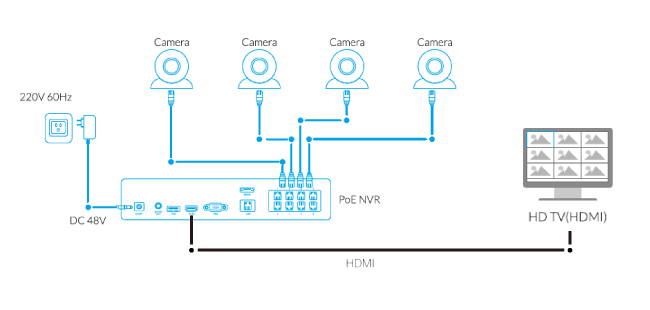 Solution 2: Google Home
You may refer to this article to see the model of device that can work with Google Home: Which Reolink Cameras can Work with Google Home
You may use Google Home to display IP camera videos on a TV. You may refer to the article here to integrate your camera with Google Home: How to Add Reolink Cameras to Google Home
Solution 3: Amazon Alexa
You may refer to this article to see the model of device that can work with Amazon Alexa: Which Reolink Cameras can Work with Amazon Alexa
You may also use Amazon Alexa to display IP camera videos on a TV. Please refer to the article here to integrate your camera with Alexa: How to Add Reolink Cameras to Amazon Alexa