PoE IP Cameras: PoE, namely Power over Ethernet, for CCTV home cameras, means an extremely simple setup, with no power cable or adapter needed.
Reolink PoE security cameras are also HD IP cameras, for delivering 4K, 5MP, 8MP, or 12MP high-definition videos for greater clarity, even at night. Featuring a waterproof design, and working perfectly with Reolink's PoE NVR, PoE IP cameras from Reolink provide 24/7 indoor and outdoor surveillance. For monitoring a large area with a single camera, Reolink outdoor PoE PTZ IP camera is also a top-notch choice.
Also, Reolink Smart person/vehicle detection cameras provide a solution to effectively reduce false alerts and recordings.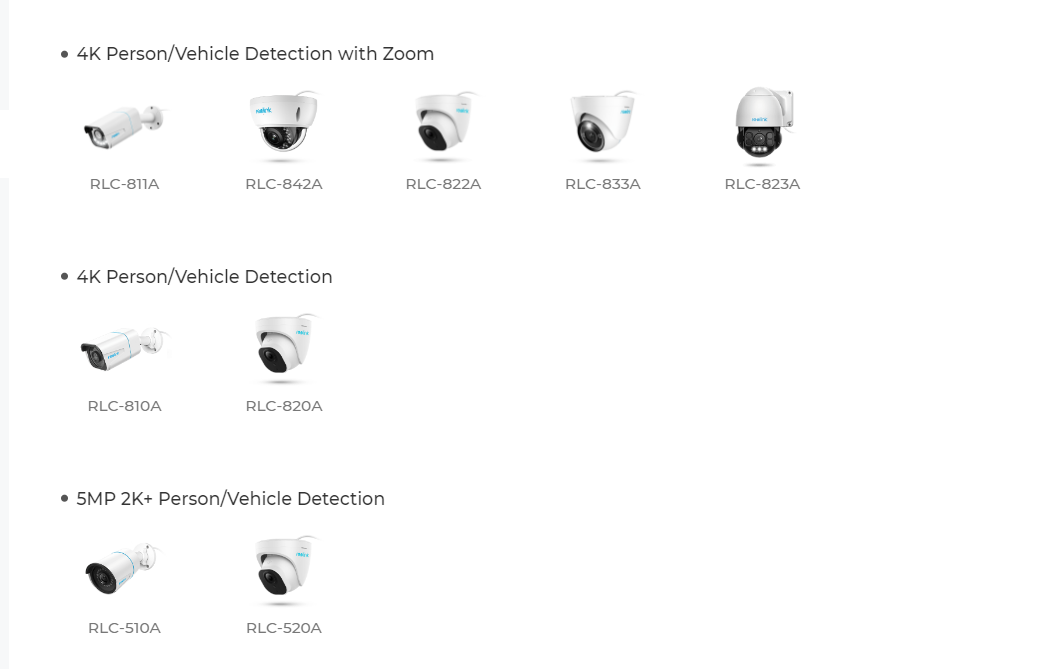 Bullet cameras: RLC-410-5MP, RLC-810A, RLC-510A, B800, B400, etc.
For the appearance and buttons of PoE bullet cameras, please refer to the pictures (RLC-510A) below:
Dome cameras: D400, D800, RLC-420, RLC-520, RLC-520A, RLC-822A, etc.
They are easy to set up and highly secured. 
They can be directly connected to a PoE network video recorder (PoE NVR), which will then be connected to a router, then the security camera will be up and running.  (See Reolink PoE IP cameras and NVRs)
Usually, we use Cat 5 or Cat 6 cables to connect PoE cameras to NVRs and routers. But what's the difference between Cat 5 and Cat 6? 
1. Category 5 cable, also known as Cat 5, is a type of Ethernet network cable used to transmit video signal and supply power to network IP cameras. Cat 5, Cat 5e, and Cat 6 are Ethernet cables that support different internet speed, bandwidth, and transmitting distance. Despite the differences, all Ethernet cables can be plugged into the same network port.
2. Many PoE camera users agree that the Cat 5 Ethernet cable is sufficient to power most IP security cameras. Of course, Cat 6 Ethernet cable is much more future-proof and would be more advanced than Cat 5 or Cat 5e in terms of stability and speed.
If you want to make your PoE cameras work with non-PoE NVR and router, an extra power adapter will be needed.
If you do not want to use the extra adapter, you need to use a PoE switch or injector to connect your PoE IP camera to a non-PoE router/NVR for both power and network connection.
The difference between a switch and an injector is that a PoE injector has only one port and therefore can only support one PoE security camera.
If you have multiple cameras, you may use a PoE switch, which usually comes with 4 or 8 ports, to reduce cabling. For example, if you want to put several PoE IP cameras outside your house which are far away from the NVR, you can use a PoE switch to connect those cameras, and then run a single switch cable back to the NVR.