For some WiFi cameras with a LAN port and supporting the voice prompt, you can set them up via Reolink Client by referring to this article.
Applies to: Reolink E1 outdoor, E1 Outdoor PoE, E1 Outdoor Pro, E1 Zoom/E1 Pro/E1 (with LAN port), TrackMix WiFi, Video Doorbell WiFi, FE-W.
Note: Before the initial setup, download the Reolink Client in the Download Center.
There are two methods to do the initial setup: 1. With a Wi-Fi connection; 2. With a network cable connection.
1. With a Wi-Fi Connection
Step 1. Please click the "+" icon and choose the UID option to enter the UID of your camera. Then click the blue Add button.
For how to find the UID, please refer to How to Find the UID of Your Device
Step 2.  click Wi-Fi Not Configured, and then click Confirm.
Step 3. Choose I have heard the voice played by the camera, and click Next.
Step 4. Enter the WiFi name and password manually for this camera, click the right eye icon under the WiFi password option to make sure that you entered the right WiFi password, and then click Next.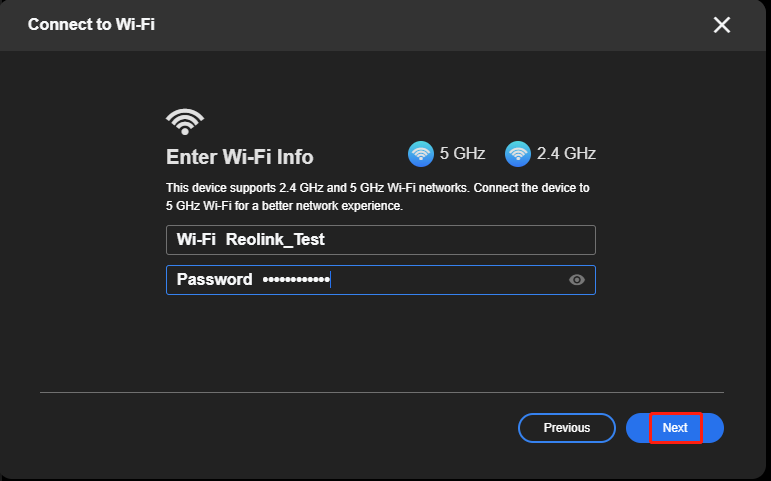 Note: The camera E1 only supports a WiFi frequency of 2.4GHz.
Step 5. You will see a QR code will be generated and displayed on the screen of your PC. Please place the camera lens in front of the QR code on your PC at a distance of about 20cm (8 inches) to let the camera scan the QR code. 
You can click the magnifier button to enlarge the QR code.
After you hear a beep sound from the camera, it means that the camera has successfully recognized the QR code. Please click Next.
Step 6. You will hear the voice prompt saying "connection to the router succeeded", and then click Next.
Step 7. You will get into the initialization process. Please create a device password for this camera and confirm the password. Then click Finish.
Note: The username is "admin" by default, and the password is blank/no password by default.
Now you have finished the initial setup for this camera on your PC client, and you can live view and make other configuration settings for this camera.
2. With a Network Cable Connection
To do the initial setup, power on the camera with the DC adapter, connect the camera to your router's LAN port with an Ethernet cable, and follow the steps below.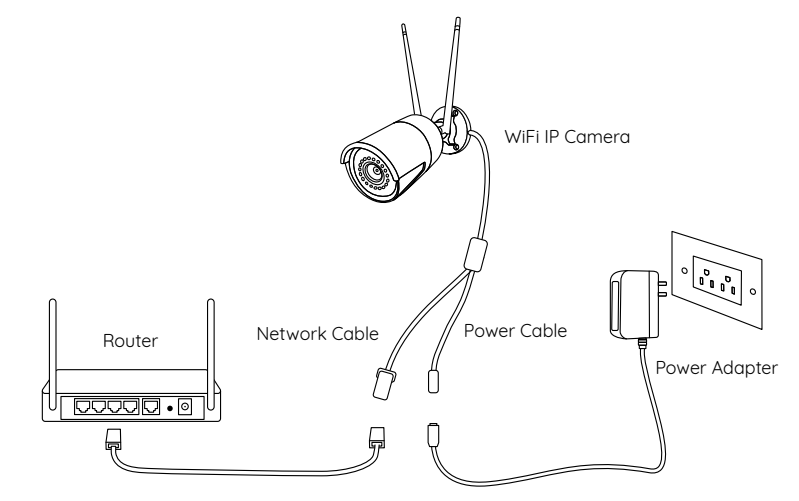 Step 1. Please click the "+" icon, and if your PC is connected to the same router as the camera, it can be scanned automatically on this page. 
You could hit the refresh button if your camera is not displayed immediately.
Step 2. Click the Add icon, you can select Wi-Fi Already Configured. Then click Confirm.
Step 3. Then you will need to set the password and name for the camera as Step 7 in the first method.
For setting up WiFi for this camera, refer to How to Set up WiFi for Battery-Powered and WiFi Cameras via Reolink Client (New Client)