This is an easy-to-understand guide on how to install Reolink dome cameras. You could try it by following the steps below.
Step 1. Separate the mounting plate from the camera.
You may hold and press on the camera top and turn the plate counterclockwise as shown below.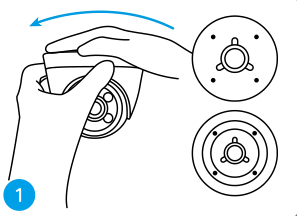 Step 2. Install the mounting plate.
Drill holes on the ceiling according to the mounting hole template and screw the mounting plate firmly.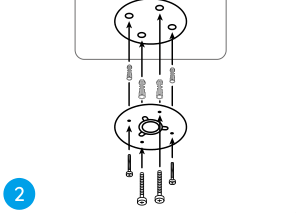 Note: Use the drywall anchors included in the package if needed.
Step 3. Attach the camera.
Align the camera to the mounting plate and turn the camera clockwise to lock it tightly. Pay attention that these two points should be aligned, which means the camera has been locked correctly.

Notes: 
Run the cable through the cable notch on the mount base.
If you need to take down the camera, please hold and rotate the camera counterclockwise carefully.
Step 4. Adjust the camera's view angle.
Once the camera is installed, you may rotate the camera body manually to adjust the camera's surveillance angle.