Applies to:
All Reolink PoE NVRs
With Reolink IP Camera or NVR, you can send motion detection alarms through Email. For setting up the Email, please refer to our article "Set up Email configurations on PoE NVR" for instructions.
However, after inputting all the information in Email Settings and click Test, an alarm message might pop up and says:" Email test failed". In this case, we will have to go through a few steps to figure out what's causing the problem.
Step 1. Check if the "SMTP Server", "SMTP Port", "Sender Address" and the "Recipient Address" are right. (You can check the SMTP Server and Port on the official website of the sender's Email.) Generally, if you have enabled SSL or TLS, the SMTP Port is 465. If you have disabled SSL or TLS, the SMTP Port is 25(but there could be some exception, we suggest you check it on the Email server's official website).
Step 2. Check if the NVR is successfully connected to the internet. Please follow a few steps to check the internet connection.
Go to Network >> General to check the internet settings.
We suggest you set the Network Access value as DHCP. (If you chose Static, please make sure your device is connected to the router and they are connected to the network.) Choose Auto DNS and click Apply to finish setting up the network.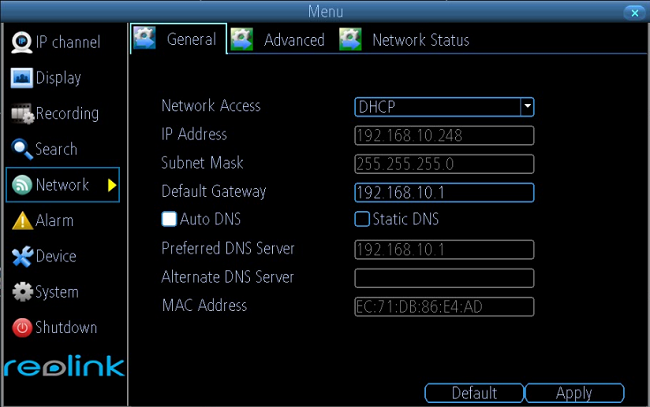 Go to Network >> Advanced >> NTP to sync the time to the internet. If the time is successfully synced, it means the NVR is connected to the internet.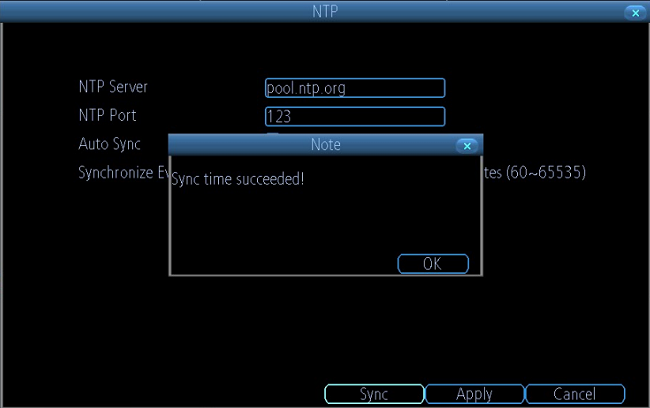 If the NVR failed to sync time with the internet, please check the cable connections. The cable might have loosened if the light of the cable is off. (In operative mode, the green light is on and the yellow light constantly blinks.)
If your internet connection is fine and the Email still doesn't work, please restart the NVR and router to fix the problem.
Step 3. If the problem is not fixed after going through the 2 steps above, it's very likely that you didn't turn on the switch that allows a third party application to send out Emails. Please check on the official website of your Email server or try to send out an Email on Outlook or Foxmail to see if it can come through. Also, you may use another email address to check if the problem is on the email server.