Applies to: All Reolink Wi-Fi NVRs
It is advised that Reolink Wi-Fi IP camera should be placed in the distance of 10~30 meters from Wi-Fi NVR (Allowing 2 wooden walls in between). Long distance, as well as blocks, can be the factors to a weak signal, which in turn causes IP cameras to go offline. If your Wi-Fi kit has some signal issues, please follow the steps to find out the problem and try the corresponding solutions.
The following issues are the main reasons for the weak Wi-Fi kit signal.
Main reasons for weak Wi-Fi kit signal and solutions:
Cause 1. The Wi-Fi IP camera is too far away from the Wi-Fi NVR.
Solution: Try to move the Wi-Fi IP camera close to the NVR and try again.
Cause 2. The antennas of the Wi-Fi NVR and Wi-Fi IP camera are loose.
Solution: Try to fix it manually and adjust the angles of antennas. 
Cause 3. The interference from other electronic devices in the same channel weakens the signal.
Solution:
Try to select another channel in "Wi-Fi Setting" for NVR. You may change the "Wi-Fi Setting" in the following interface.
It is suggested to use different channel numbers on the NVR and the router.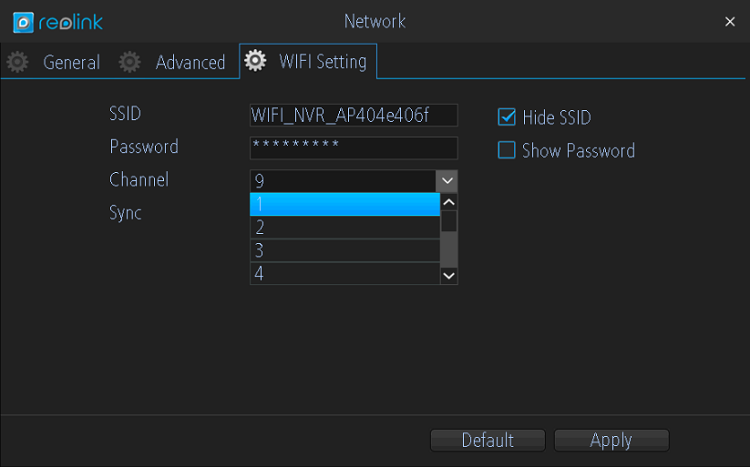 After selecting the new channel, click "Apply" and then click "OK" in the warning interface.
The IP camera will restart after applying the new settings.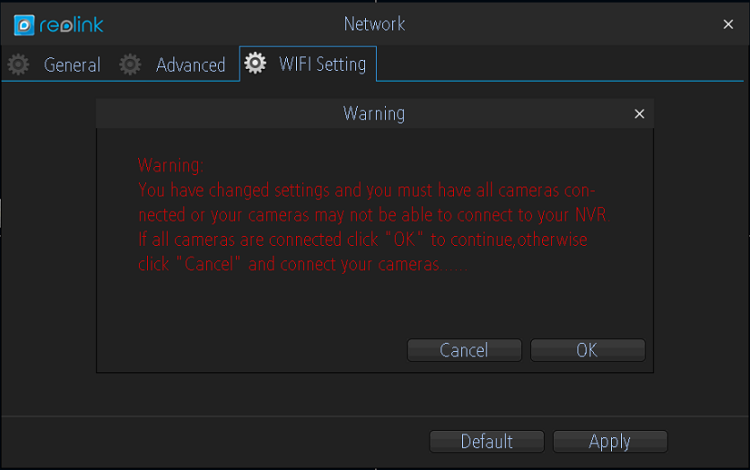 2. If the NVR is very close to your wireless router, please move it away from the router.
it is not suggested to place the Wi-Fi NVR right next to the router or onto the router, please keep them at least one meter(3 feet) away.