Applies to:
Argus, Argus 2, Argus Pro.
please follow these steps:
1. Make sure you get the latest version of Reolink Client from our website. (Version number is 7.2.2.18 or higher) If you are using the old version, it's likely you will fail and get "login failed" instead.
2. Click "Add Device", select "UID" as Register Mode, then input the UID of your camera into the box. Also, input the username (admin) and password. Name your camera on "Device Name". After that, hit "OK" to log on.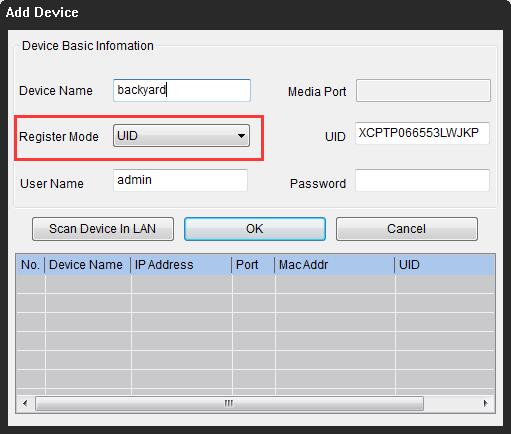 Another method:
If you have "camera" listed on the list like this:

Then double-click it, input the password and hit "OK" to log on.
3. After the camera is added, it will show up on the Device List:

And you can live view or go modify its settings.
4. To save battery, the live view will stop and the camera will go back to sleep after a while. If you need to keep live viewing, click "No" when you see the notice:
Your battery camera will log out if no operation is made:
5. If the camera is logged out, you can click this icon to log on again: