This article will show you how to install Reolink Duo Floodlight step by step clearly.
Applies to: Reolink Duo Floodlight WiFi, Duo Floodlight PoE
Reolink Duo Floodlight is an ideal combination of a security camera and a lighting device. But how to install it may be a little challenging for some people. It will bother you no more as long as you follow the guide below step by step.
Attach the Camera to the Floodlight
Before installing it onto the wall, you have to first combine the camera and the floodlight correctly.
Step 1. Screw the floodlight to the camera.
Step 2. Plug the floodlight wire into the camera's wire socket. Make sure the "Arrow" mark on the plug at the end of the floodlight wire faces the LAN port, as shown in the picture.
Step 3. Tuck the wires into the mounting bracket. 

Note: Remember to screw the antennas into the camera if you install Duo Floodlight WiFi.
Mount the Camera to the Wall
Step 4. Stick the mounting template on the wall and drill holes accordingly. Secure the mounting plate to the wall with two screws.
Step 5. Connect the steel wire rope in the mounting bracket to the mounting plate, and hang the camera on the mounting plate.
Step 6. Drill a hole into the wall in accordance with the hole on the mounting bracket. Fix the camera in position with a screw. 

Note: Use the drywall anchors included in the product box if needed.
Step 7. Loosen the adjustment screw on the security mount and turn the camera until the camera's field of view is satisfactory to you.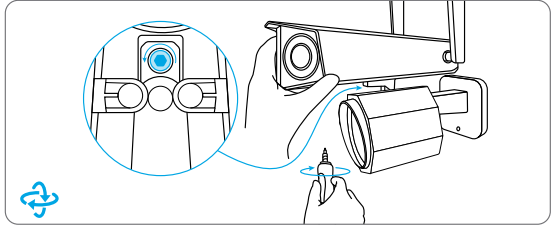 Step 8. Tighten the adjustment screw to lock the camera.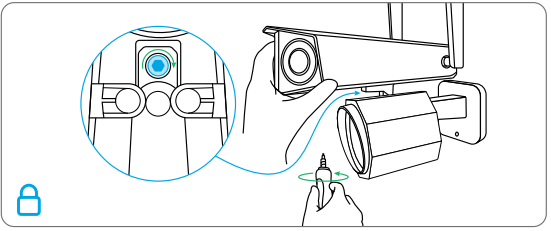 Adjust the Floodlight
You can adjust the floodlights manually before or after mounting the camera.