What is Reolink Solar Panel
The solar panel is a device that converts sunlight into electricity. They are called "solar" panels because most of the time, the most powerful source of light available is the sun.
A solar panel is a collection of solar cells. The more and stronger light that hits a cell, the more electricity it produces. Lots of small solar cells spread over a large area can work together to provide enough electricity to charge or power on electronic devices such as security cameras.  
Reolink Solar Panels are specially designed to charge and power on Reolink battery-powered cameras, which is both cost-effective and environmentally friendly.
Specification of Solar Panel
The max output voltage of the Reolink Solar Panel is 6V.
The standard working voltage of the Reolink Solar Panel is 6V ± 0.3V.
The max current of the Reolink Solar Panel is 530MA.
The max power of Reolink Solar Panel is 3.2W
The working efficiency of Reolink Solar Panel is 19.50%
Reolink Solar Panel is IP65 Waterproof.
How to Mount Solar Panel
You may refer to the following steps to connect your Reolink solar-powered cameras to a Reolink solar panel to get non-stop power.
Step 1. Please select a position with the maximum sunlight exposure throughout the year for your solar panel.
For Reolink solar panel, it only needs a few hours of direct sunlight exposure to sufficiently power your camera daily. The amount of energy that the solar panel can generate is affected by weather conditions, seasonal changes, geographic locations, etc.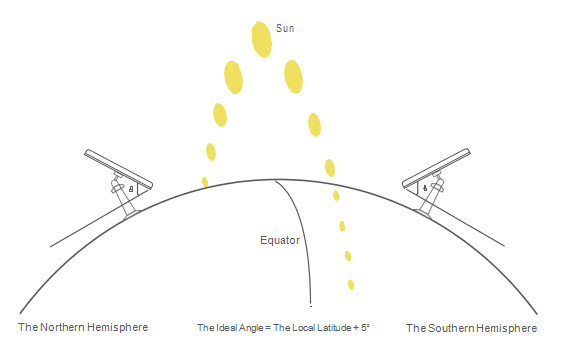 Step 2. Mount the bracket with the mounting template and the screws provided in the package.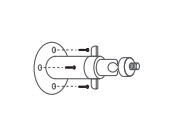 Step 3. Slot the solar panel into the bracket and make sure that it's secure.
Step 4. Loosen the adjusting control on the bracket and adjust the angle of the solar panel to make it receive direct sunlight exposure, then tighten the adjusting control to fix the solar panel.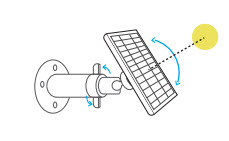 Step 5. Connect the solar panel to a Reolink camera with the micro USB cable.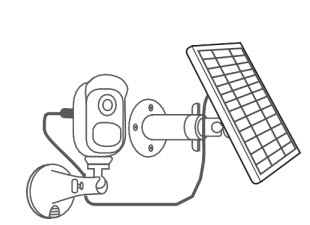 Notes:
Make sure that there is NO blocking on the solar panel. The energy harvesting efficiency drops drastically even when a small portion of the solar panel is shaded by other objects.
Please don't install the solar panel completely horizontally. Otherwise, your solar panel might accumulate dust and other debris easily. It's advised to install the solar panel angularly to make it receive direct sunlight exposure.
Wipe the solar panel regularly to remove dust and debris.
Make sure that the camera is plugged in all the way and that the waterproof wire cover protects the interface between the camera and the solar panel.